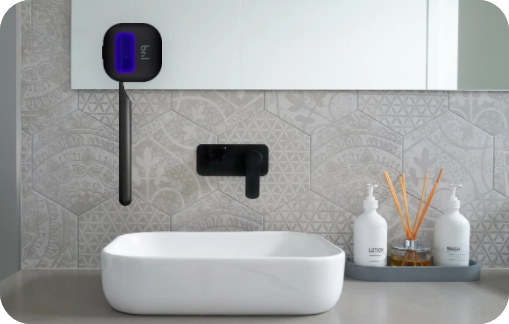 A helpful companion for your simplest hygiene habit
You brush your teeth because you're aware of the bacteria that lives inside your mouth. We made Bril because you're probably less aware of the germs that live on your brush. Add some extra clean to your routine by putting your bristles in Bril and letting the power of UV light shine by your sink.
Modern design
Stick your lightweight Bril to your bathroom mirror or wall using the attached magnet. In addition to cleaning your brush in three minutes, Bril makes for a sleek and stylish storage alternative to the grimy toothbrush cup.
Modern technology
Germs don't stand a chance against UV-C light. This powerful, natural sanitizer kills up to 99.9% of bacteria on exposure without the need for soaps, sprays or chemicals. Each USB-charged Bril is equipped with an LED chip offering over 20,000 hours of sterilization.
Our mission is to help
your family be healthier,
one brush at a time.