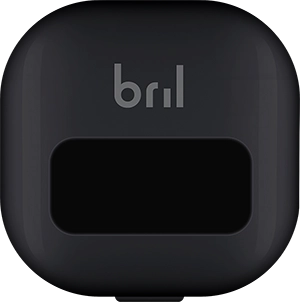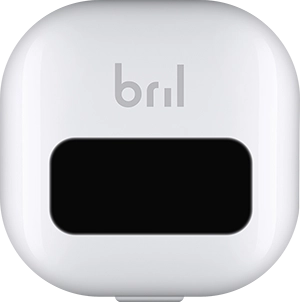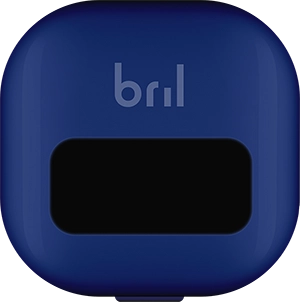 How Bril works
A healthy family starts with a clean toothbrush. Simply press a button to open the Bril window and place your brush inside. The Bril UV sanitizer immediately starts breaking down germs on exposure, cleaning your brush in as little as three minutes. Bril comes with an adhesive magnet to easily affix to your mirror or wall, making storage simple and stylish.
HEIGHT: 2 inches
WIDTH: 2 inches
DEPTH: 1 inche
WEIGHT: 2.39 onces

UV lighting is an FDA-regulated industry, and the CDC acknowledges UV lights as an effective defense against viruses and bacteria. With Bril, the UV-C light only comes on when it's closed, killing the germs inside while keeping you safe from any exposure.
Yes! No matter what type of brush you have, your toothbrush will fit. Although Bril is compact, it's guaranteed to fit any toothbrush style or size – from kids to adults. It even works with your electric toothbrush!
Yes! In fact, the bacteria on your toothbrush may have contributed to your gum disease in the first place. For many, the cause of Gingivitis is poor oral hygiene, which can lead to tooth loss and other serious conditions. Bril helps improve your oral hygiene by killing germs on your toothbrush before they enter your mouth.
Cleaning Bril is easy! Just use a damp cloth or a cotton swab to wipe away any debris. The inside stays completely sterilized thanks to the special UV light and rarely needs care.
Bril lasts for a month on a single charge! To recharge, simply plug in the included USB cable just like any other smart device. The self-contained design saves space in your bathroom and is ideal for travel.
You'll find a red LED indicator that clearly tells you when the battery needs to be recharged.
Keeping your toothbrush clean is essential to keeping your mouth clean. According to doctors, a healthy mouth is an indicator of overall health.
This is possible thanks to Bril. This special UV technology can kill the bacteria on your toothbrush that are known to cause diseases like the flu, diarrhea, and other health problems – keeping your mouth clean, and your body healthy.
After every brush! In less than 24 hours, one single germ can explode into more than 8 million cells – even on a brand new toothbrush. That's why it's so important to have an everyday cleaning device like Bril!
Bril also acts as a protective case, with a tight rubber seal that prevents germs from reaching your brush. As such, you can leave your brush in the device at all times. (Bril was designed to replace your current toothbrush holder, not add more clutter!)
FAST! We ship all orders within 24-48 hours of receiving them! On average our product is delivered within 3-7 business days in the United States. For orders outside the USA, please allow 10-15 business days for your order to arrive. Delivery times will vary based on country.
Depending on your country, it is possible that you will be charged one or more of these fees when you receive your order.
Yes. We offer a no hassle, 30-Day Money Back Guarantee. If you're not 100% satisfied with Bril, we are happy to help you with a return. We want you to be happy!
For optimal sterilization, we recommend knocking excess moisture from your toothbrush before use. A few taps on the edge of the sink is all that's necessary. While you should avoid having large drops of water on the head, it doesn't need to be bone dry either.
Our mission is to help
your family be healthier,
one brush at a time.